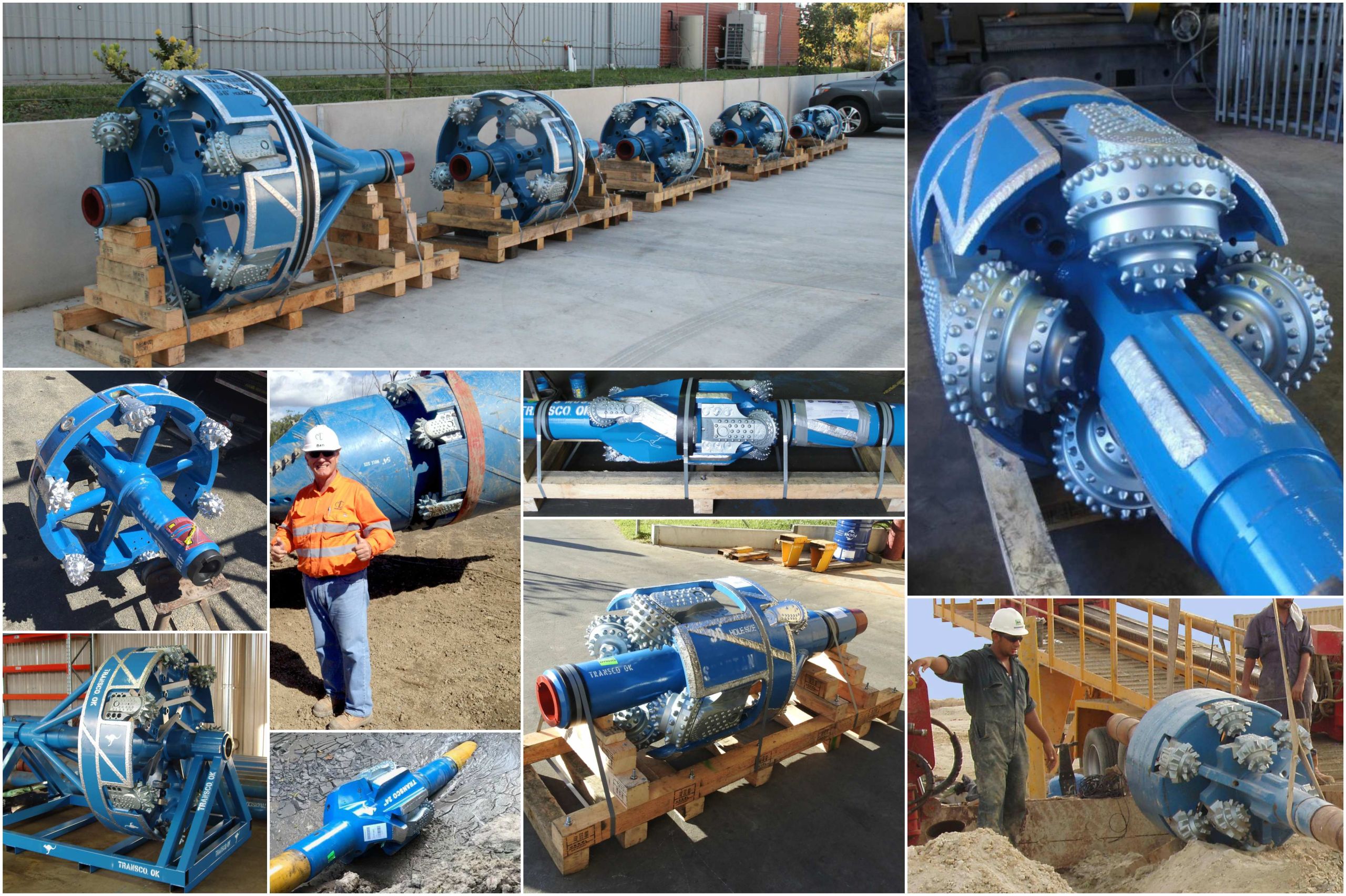 TRANSCO Designs and manufactures a very large range of H.D.D hole openers to suit any of your requirements.
From hole openers to suit midi HDD rigs to Maxi Rigs in both Integral and fabricated body.
TRANSCO designs and manufactures all hole opener components with the exception of carbide inserts, seals, some bearing parts and raw steel.
That gives us the ability to change any aspect of our tool design if required for special purpose applications.
Before making cutter design changes to improve performance there must be a standard or baseline and a good reason for the change. TRANSCO has been making high quality HDD drilling tools since 1998. Our existing tools qualify as baselines.
We developed a method for describing, analysing and comparing cutting structures of different diameter tools made by different manufacturers that allow us to make logical changes and anticipate the results
Cutters designed for soft or hard-formations to ream rock up to 200mpa plus hardnessses.
Cutters – field changeable with patented fail safe retention system

Utilizing TRANSCO Manufactured field replacable cutters and patented retention systems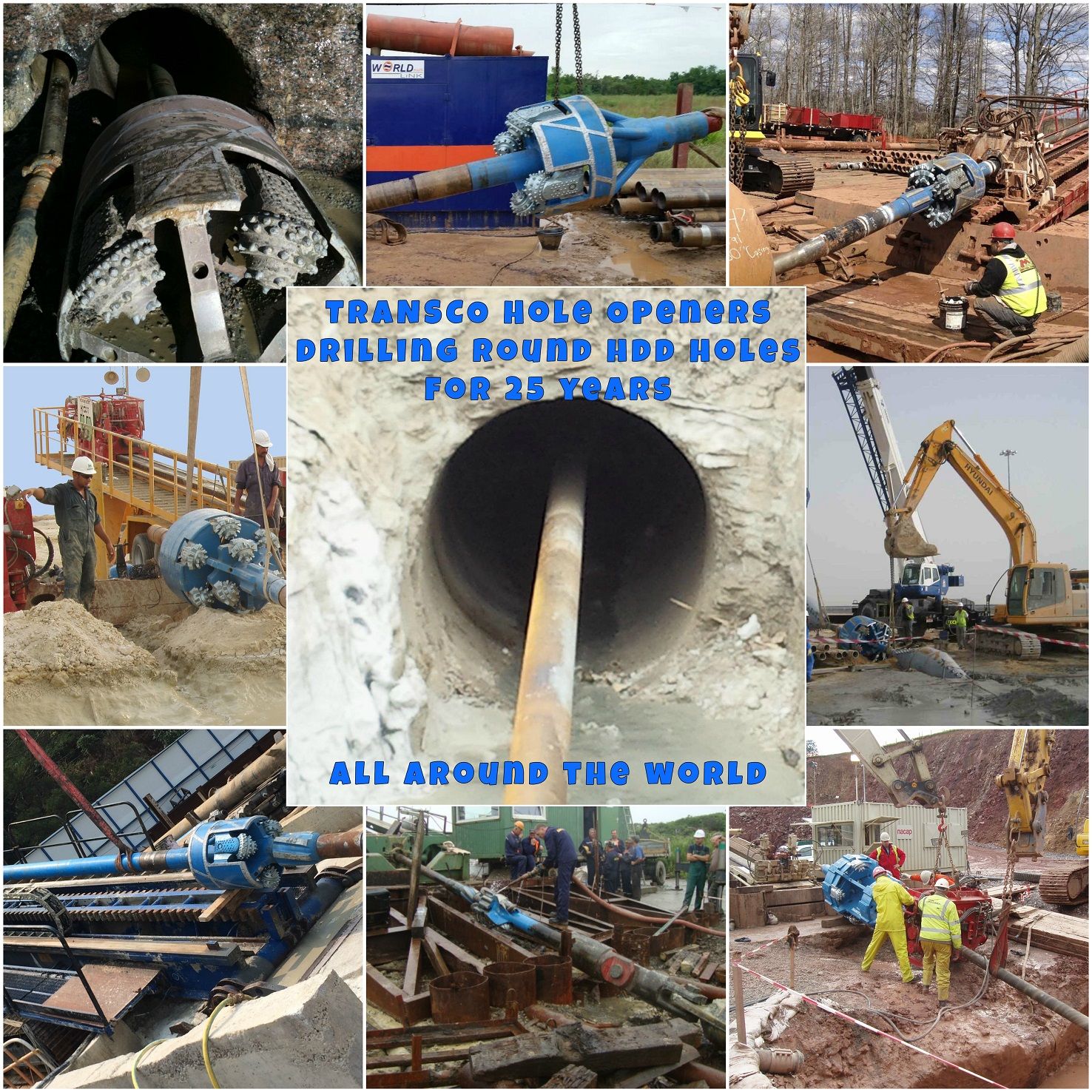 Fabricated Style Hole Openers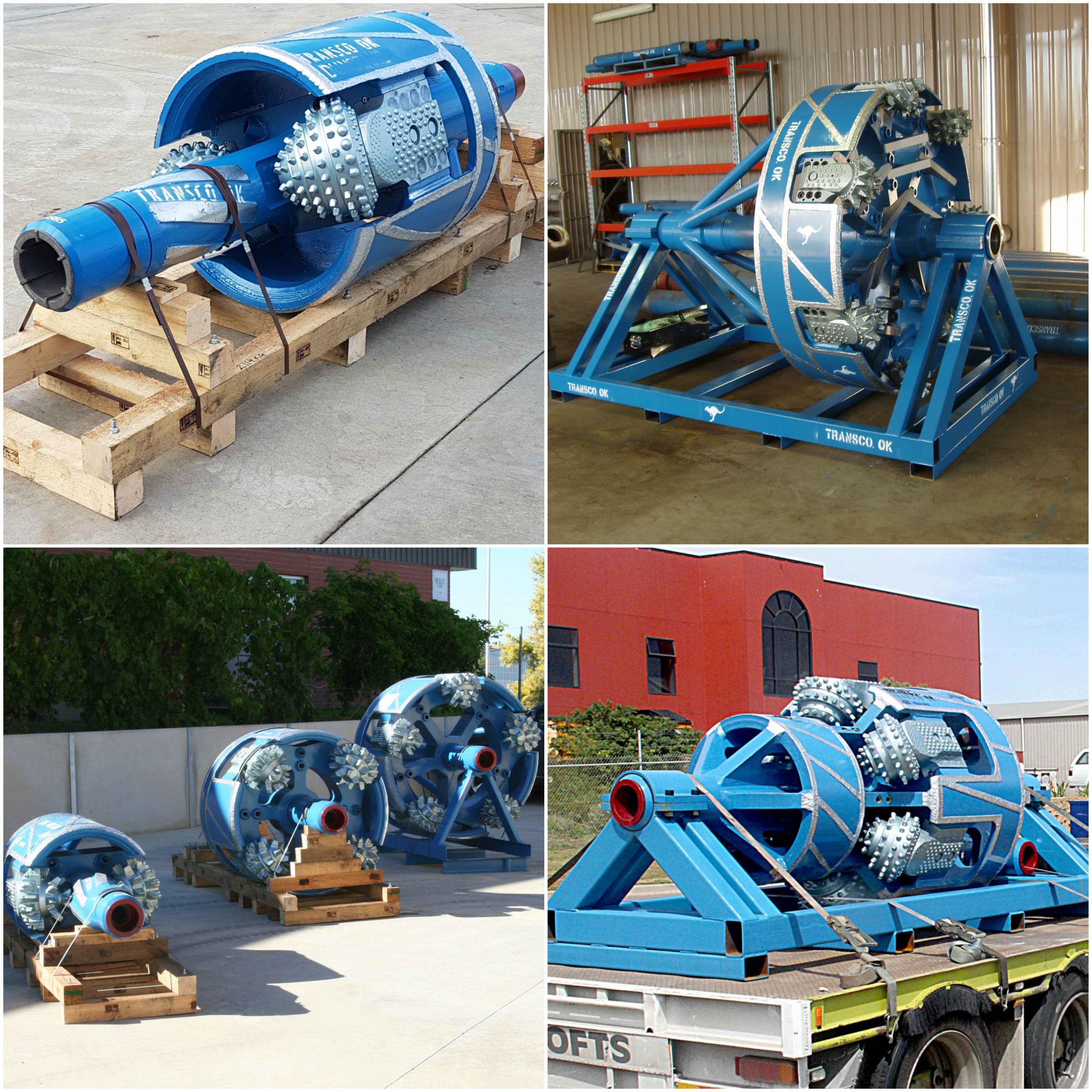 Transco Manufactures fabricated body hole openers from 26" through to 72' plus hole size,
dressed with Transco Manufactured field replacable cutters featuring Transco's patented cutter retention system
Components are manufactured to API Spec 7-1 4145H specification with mandrel steel ex AISI 4145H certified alloy bar
All connections cut in accordance to API .
Transco made the first smooth barrel hole openers for drilling in large hard cobbles and hard broken formations.
The smooth barrel surface would not hang up on broken formation and falling rock. The result was reduced torque, smoother operation and more efficient drilling. These advantages carried over into all types of formations drilled. Transco made this the standard body design for all its hole openers 26" and over in 2007.
Additional advantages were noticed as more holes in varied formations were drilled. The stabilization of the barrel gave straighter holes. The large smooth area of the barrel does not dig into the bottom side of the bore during stationary rotation – fewer key seats. The barrel hole opener makes smoother borehole walls than traditional hole openers causing less friction for the product pull and allows a reduced reamed hole size to product pipe ratio in competent ground.
TRANSCO barrel hole openers drill faster, straighter, smoother and longer bores with less torque than any other hole opener on the market
TRANSCO Manufactures integral hole openers from 12" throught to 36" hole sizes,
With Transco Manufactured field replacable cutters featuring Transco patented cutter retention system
Components are manufactured to API Spec 7-1 specification with body steel ex AISI 4145H certified alloy forgings
All connections cut in accordance to API .

Certified AISI 4145 H one piece forged body construction – no welding
Fully machined body and cutter attachment system
Hydraulic system – jets to cutter gauge, up hole and diffusers under cutters
Proven T.C.I., Milled Tooth and PDC cutter designs available
Available in single or multi staged bodies to 42" and above with custom cutter profile layouts to suit specific formations
All TRANSCO manufactured hole openers are subject to stringent quality checks and each piece is supplied with full document packages incl. material certificates, Non destructive testing certificates, machininy certificates against traceable serial numbers.
SRHO Series Hole Openers (Small Rig Hole Openers)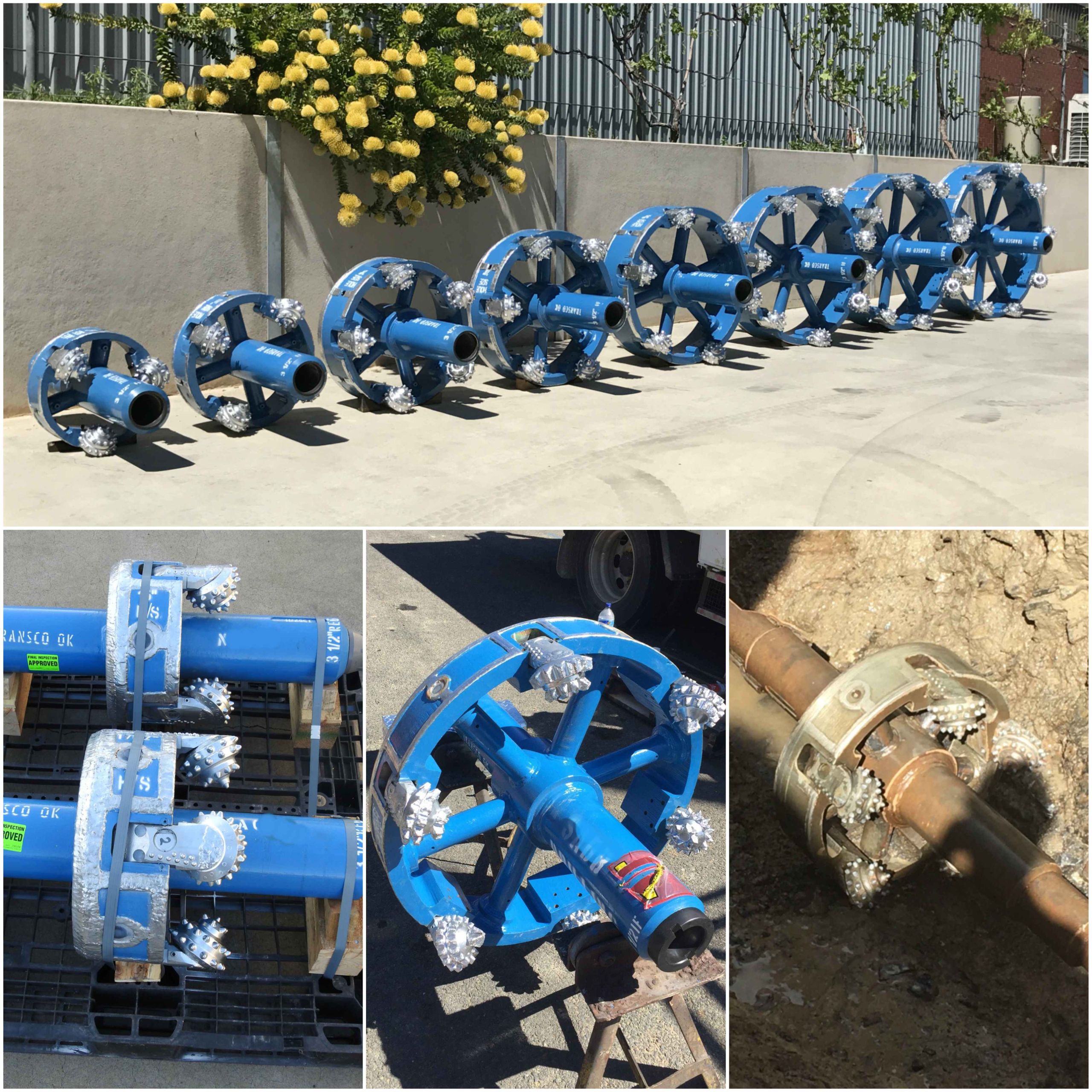 The SRHO series hole openers present qualities that are expected when using TRANSCO tooling such as;
On hole opener bodies 12" through 44" diameter all cutters are interchangeable between body sizes.
Low torque and smooth reaming
Jets to gauge and jets to each cutter.
Performs well in broken ground conditions.
Heavy ring stabilization machined for concentricity and hard faced for maximum wear resistance.
Each torque arm includes a wash out port recessed into the ring to allow for easy washout of used bentonite or drill cuttings.
Field replaceable demountable cutters.
Torque arms can be fitted with picks or paddles to further agitate cuttings slurry.
Cutters are all sealed bearing, TCI, mill tooth or PDC suitable and interchangeable for soft, medium and hard formations.
Mandrels are machined from certified AIS4145H material
Field Replacable Cutters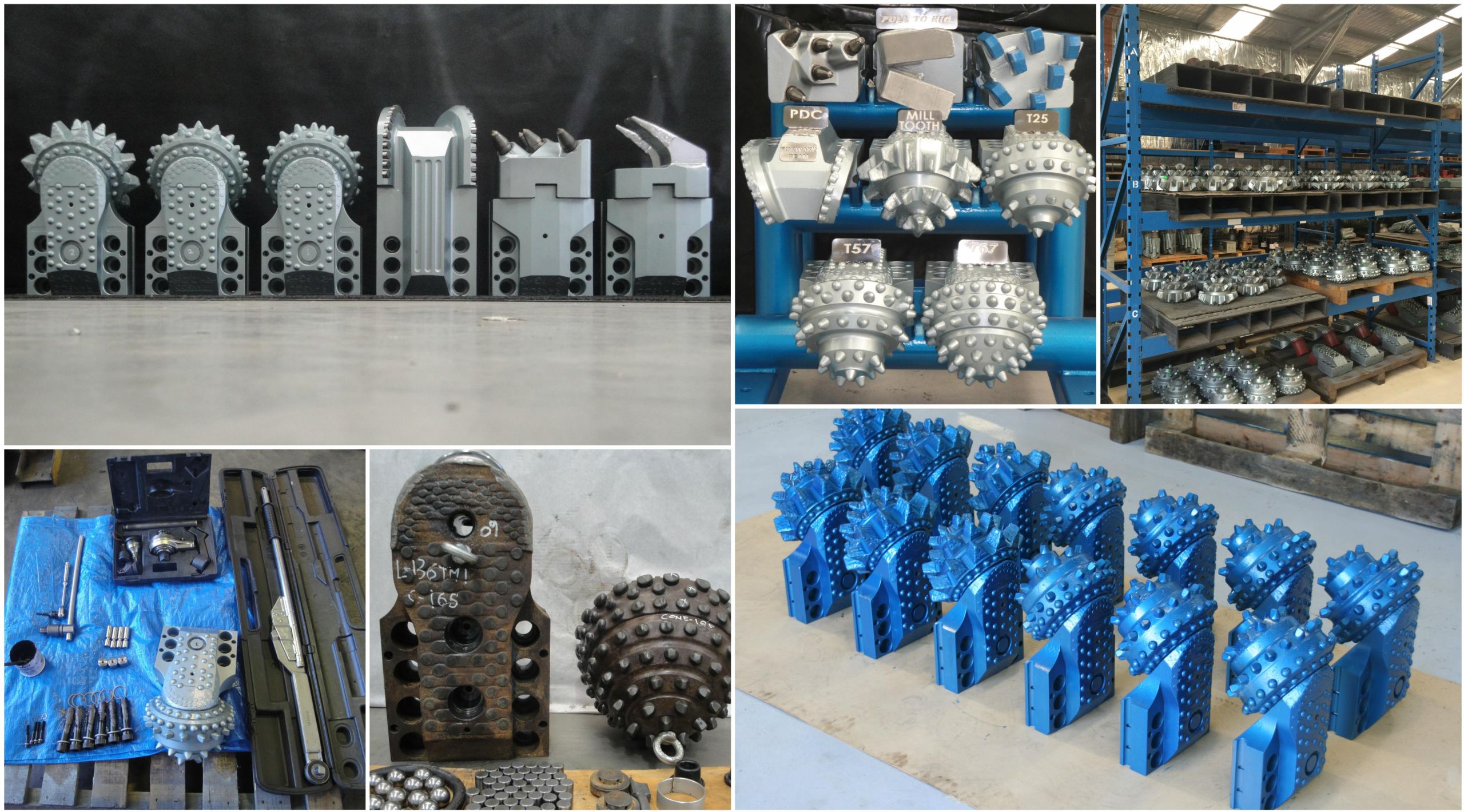 Our Patented Replaceable Cutter System
Has Been Proven Effective since 2002 in HDD Bores All Over the World and
Since 2010 in the North Sea Oilfields

Due to TRANSCO's quality assurance obligations it is the only entity to service Transco bits and cutters
returned for rebuild

8" Cutter size common to 17" Diameter hole opener bodies up to 22" Hole size
10" Cutter size common to 23" diameter hole openers and above for fabricated and integral body hole openers
14" Cutter size common to large body hole openers 32" Diameter hole openers and above
High speed bearings